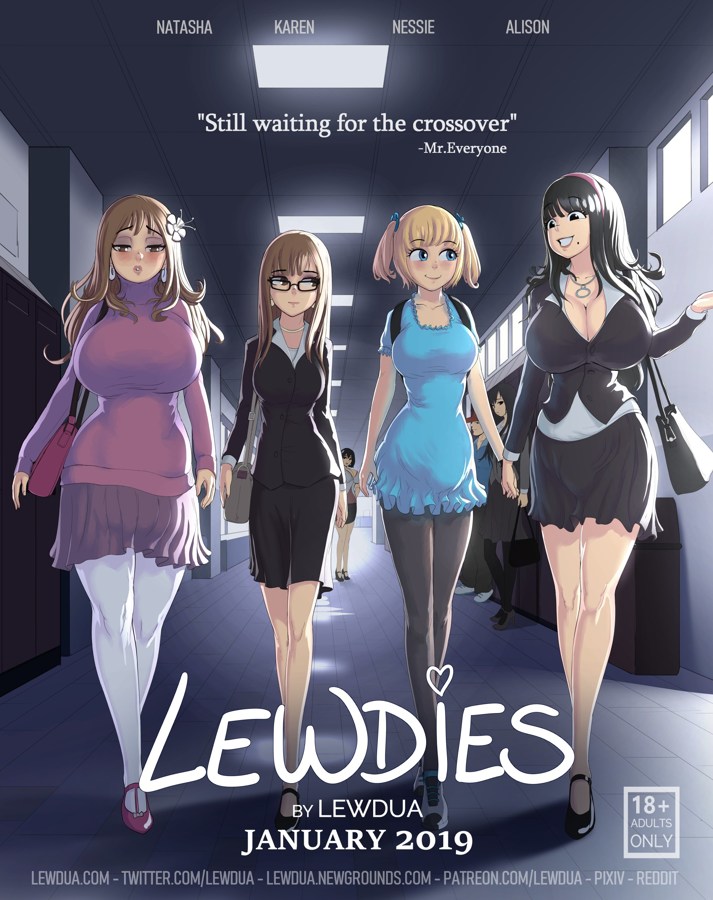 Hey everyone <3
This is official, I made the crossover! All my characters finally in the same universe!
In 2017, a few months after I started drawing hentai, I created, step by step, a naughty universe by giving birth to my beloved characters: Nessie and Alison, then Alice, and other secondary characters …. I'm really proud of what I've been able to build since then, to have been so inspired, to have created a special atmosphere between the cute, the love and the sex, and to have enjoyed drawing everything I loved, and most of of my kinks. This is how the universe of Nessie and Alison was developed.
In 2018, I created a second universe, with Karen, Natasha, Miss Rosewood, because I wanted to free my art a little more. Nessie and Alison had their own rules that I did not want to break. I wanted to draw different scenes, without really paying attention to the coherence of my characters, and let off steam from time to time.
That said, I soon fell in love with these characters too, and I naturally created their own personalities, their own rules, their own little whole universe. <3
I admit, there are many similarities between my two worlds, and I was tempted to merge them several times during the year, but I did not do it because I was afraid of ruin everything …
For 2019, I decided to start the crossover of 2 universes, once and for all!
Nessie, Alison, Karen and Natasha share the same universe now, as well as all the secondary characters. I will try to make them interact, however, keeping the option to create stories with the same previous teams.
I will be honest: I will not organize a mega orgy. No. The characters remain the same. Some personalities will adapt, just like some designs.
In this universe, the futanari are rather in a small minority, but not totally rare. I keep the privilege to add other characters in the future, futa, girl, boy, or other …
Anyway, I hope you enjoy the idea of ​​this crossover, and all the embarassing and sexy situations that could engender.
Very soon, I plan to explain in detail how all this will take place in this universe, and how the characters will interact.
—
Finally, I wanted to thank you for all your support since I started the hentai, 2 years ago. I live a wonderful period of my life thanks to you, and I can not find the words to describe it.
Thank you for your private messages, public messages, emails, comments, your donations on Patreon, all your shares of my posts around the world on (RIP) Tumblr, Twitter, Newgrounds, Pixiv, etc. Every morning when I wake up, my phone shows a ton of notifications, and believe me, I take the time to read everything with a big smile on my bed. *
Drawing porn, and having to hide it from all the IRL people around us, it's frustrating. Fortunately you're here. My little hidden world that I love, this is you.
Thank you so much! <3
Lewdua~
* However, sorry if I do not respond to all messages and comments, there are really a lot